Split Face Tile
6th Jun 2021
Split face tiles are beautiful textured tiles designed mainly and ideally for creating stunning feature walls. Split face tiles can many at times be used as internal wall tiles or exterior outdoor wall tiles. If you're in for bringing your wall into life by embracing the beautiful aesthetic nature of the outside world, then split face tiles are the best. split face tiles are the best way to go for a striking, characteristic look. Split face tile discovery has at largely brought about the new discovery of the mosaic design tiles that are used in the internal wall tiling and as well as outdoor wall tile. Split face tiles mainly consist of strips of a certain material cut to different heights, widths and depths, and arranged to create a staggered, multi-levelled face. These tiles are mainly made to have an undulating look and texture, meaning they are characterized by a smooth rising and falling form on their outline.

Split face tiles are available in both natural slate and realistic porcelain options, these tiles will allow you to create a captivating backdrop in any room. Wall tiles created with this realistic porcelain look are arguably fantastic in posing a natural nature look in both indoor and outdoor wall tiles. If you are to use these split face tiles, whether you choose to adorn a shower enclosure or transform a striking focal point in your chosen space, these tiles assist in the creation of fascinating interior designs. Furthermore, the undulating nature of these split face tiles not only adds organic characteristics but also increases interest across previously mundane wall spaces. This changes the outlook of walls from traditionally used paint on walls to the use of wall tiles that create the best fit in design, specifically keeping up with current trendy times that call for having a third eye in aesthetics.

Oyster Split Face Quartzite Natural Stone - Click here to view tile
Back in time, tile invention was only made for the sake of good looks in the internal space walls, this brought about the wall tiles. Then a clever twist in design came to the emergency of split face mosaic wall tiles that are used for internal wall tiling as well as outdoor wall tiles. External wall tiles balance character with a stylish, modern aesthetic. Split face mosaic wall tiles are mainly made from natural stone and encompass linear pieces of slate or quartzite, carefully hand-made into a textural wall tile. For internal wall tiling, split face wall tiles can be used to create seamless feature walls in kitchen's, living areas and bathrooms, and also can be used to create a focal point to a fireplace or in the case of a wood burner. If you are willing to extend your living space by addition of patio outdoor spaces, use of split face tiles in the outdoor wall tiling creates just the perfect extension that will create a glamorous look.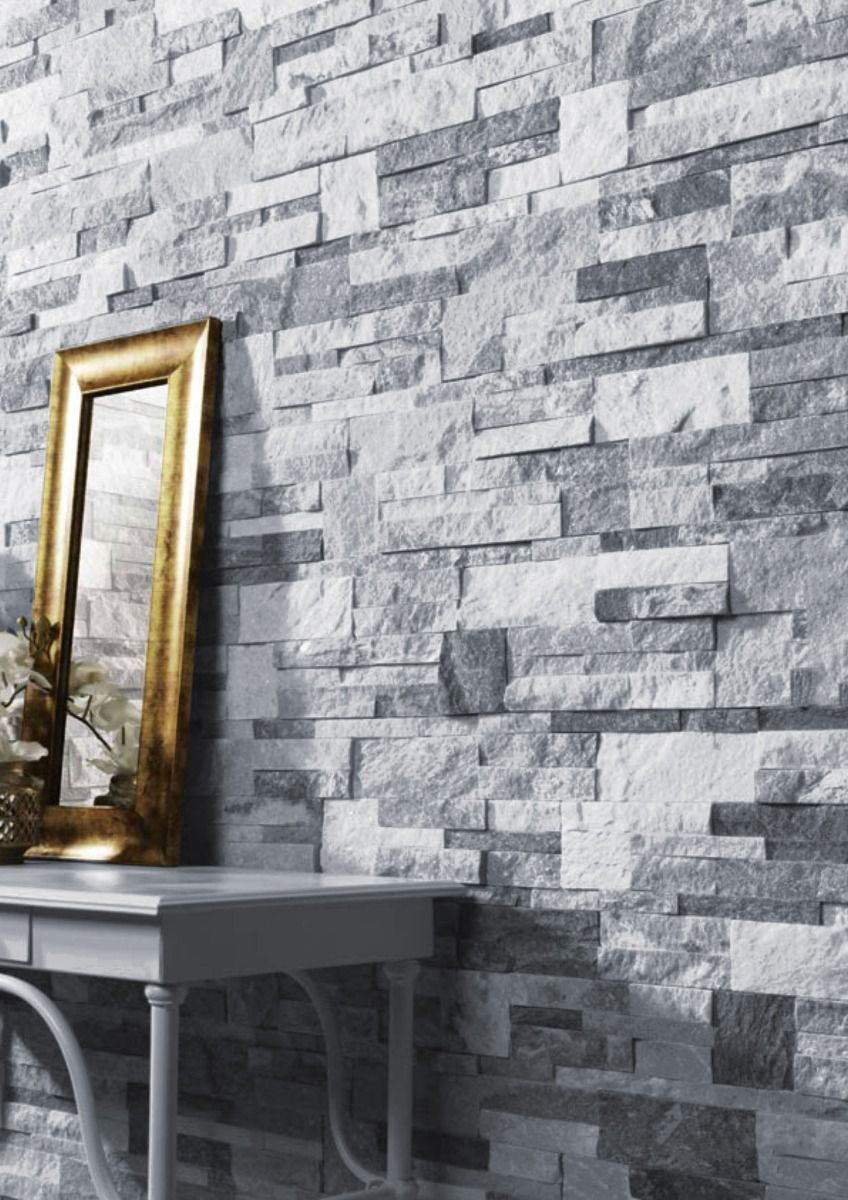 Split Face Sparkle Grey Natural Stone Tile - Click here to view tile
Split face tiles have grown over a quite small-time ratio to become very popular in the business market of the current house styling designs. They come in a selection of colors and styles, presenting you with a great range of options when it comes to creating a statement feature wall or border design. What if somebody poses a question to you about where to use split face wall tiles, what could be the perfect answer? And Thanks to the striking aesthetic of these contemporary tiles, split face tiles are perfect for making an interior impact with a bold tiled feature wall that can be used in almost any area of the home. Nevertheless, due to the fact that these split face tiles have a surface which is more porous than a glazed tile and can be difficult to fully seal (even when using grout and other sealing solutions), I will greatly recommend you don't use split face tiles in very wet areas such as shower cubicles and bath surrounds. However, that being said, it should not shatter your choice of using split face tiles for kitchen sinks and hand wash basins in corridors for in these scenarios, there is low risk of direct contact with large volumes of water or complete saturation.

Twink Split Face Black Natural Stone Tile - Click here to view tile
Comfort as it spells, looks cosy, but if you are in for the real deal consider making it charming. Installing split face tiles in your living room walls or kitchen walls area is just the perfect solution to what I can call charming comfort. With the distinctive earthy tones of this natural stone perfectly complementing fireplaces or similarly toned kitchen appliances, you can enhance your existing design theme by using these tiles to create a focal point around these traditional, rustic-look interior features. Every other person can argue that urban interior design is at a rage now. Every one having that dream of installing wall tiles, not just for internal purposes but also considering outdoor wall tiles. So why surfer with complicated design ideas when split face tiles can achieve this sleek, contemporary style in your own home.

There is always a call that says "no man is limited" so why stop indoors with design architecture using split face tiles? All these charming and cosy looks can as well be used for outdoor wall tiles. Consider split face tiles that boast the beauty of natural stone. There perfect design that fully borrows natural nature looks ensures outdoor wall tiles are not dull as were traditional paints used for outside decorations. They carry and embrace a beautiful look that will ensure anyone building will struggle to ensure they have external patio sit-outs for outside chilling spots.
ther than just considering that these split face tiles create an admirable look in homes, including exterior outdoor wall tiles and internal wall tiles, they also carry a dramatic flourish look they clearly potray on walls. This goes for the variety of colors that are used in processing of the quartzite split face tiles. Ranging from black, pale grey, snow white and sandy shades that are the ideal solution for creating nature-inspired interiors and exteriors. Design colors are not just limited to those of single colors because in processing softer shades can also be found by mixing a variety of colors creating wonderful contrasts of color.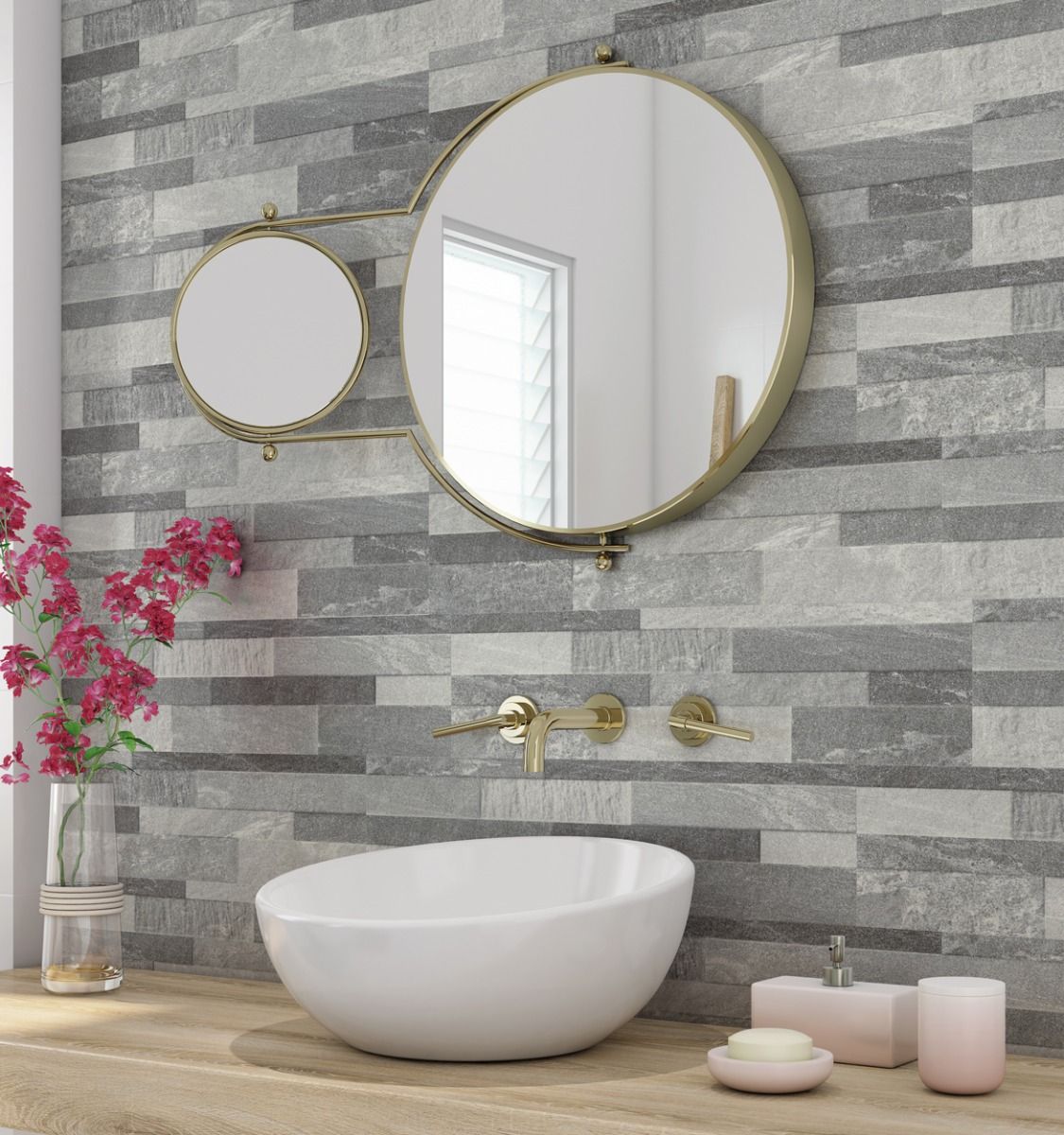 Outdoor wall tiles are subject to harsh conditions considering the changes in weather time and again. Who doesn't know sometimes the weather is quite unpredictable. In conjunction with this, we just can't limit ourselves by only marveling at the beauty that is brought about by this split face tiles. We also have to appreciate the fact that these split face tiles are manufactured with all the hardness and durability of porcelain. This makes them tough and durable withstanding harsh climatic conditions specifically those used as outdoor wall tiles. Porcelain used to manufacture this split face tiles also ensures cleanliness maintenance is at peak in the interior wall tiles. The surface is tough and glossy ensuring they can easily be cleaned and maintained.
Installing of tiles doesn't differ much considering the wide variety of tiles. Most tiles come in rectangular and square shapes hence they allow for a borrow of knowledge from one tile type to another. Installation of split face tiles for the walls and in both outdoor and indoor is therefore no exception to this. Like all the other types of tiles they require a surface that is dry, clean, and flat preferably coated with primer to ensure when using the tile adhesive, the bond between the tile and the wall is strong enough to ensure they stay intact for long. The final outcome of using split face tiles is to ensure that they create a natural unique look. This calls for the installer to have a little bit knowledge on blending so that the demands of beauty and aesthetics are catered for in the final outcome. In purchase and planning of wall tiles in internal walls and outdoor wall tiles, we have for a long time advised that the client ensures an extra 10% for the sake of miscellaneous. however, when using split face tiles, it's advisable to allow for up to 15% extra since installation deals with more awkward areas and corners.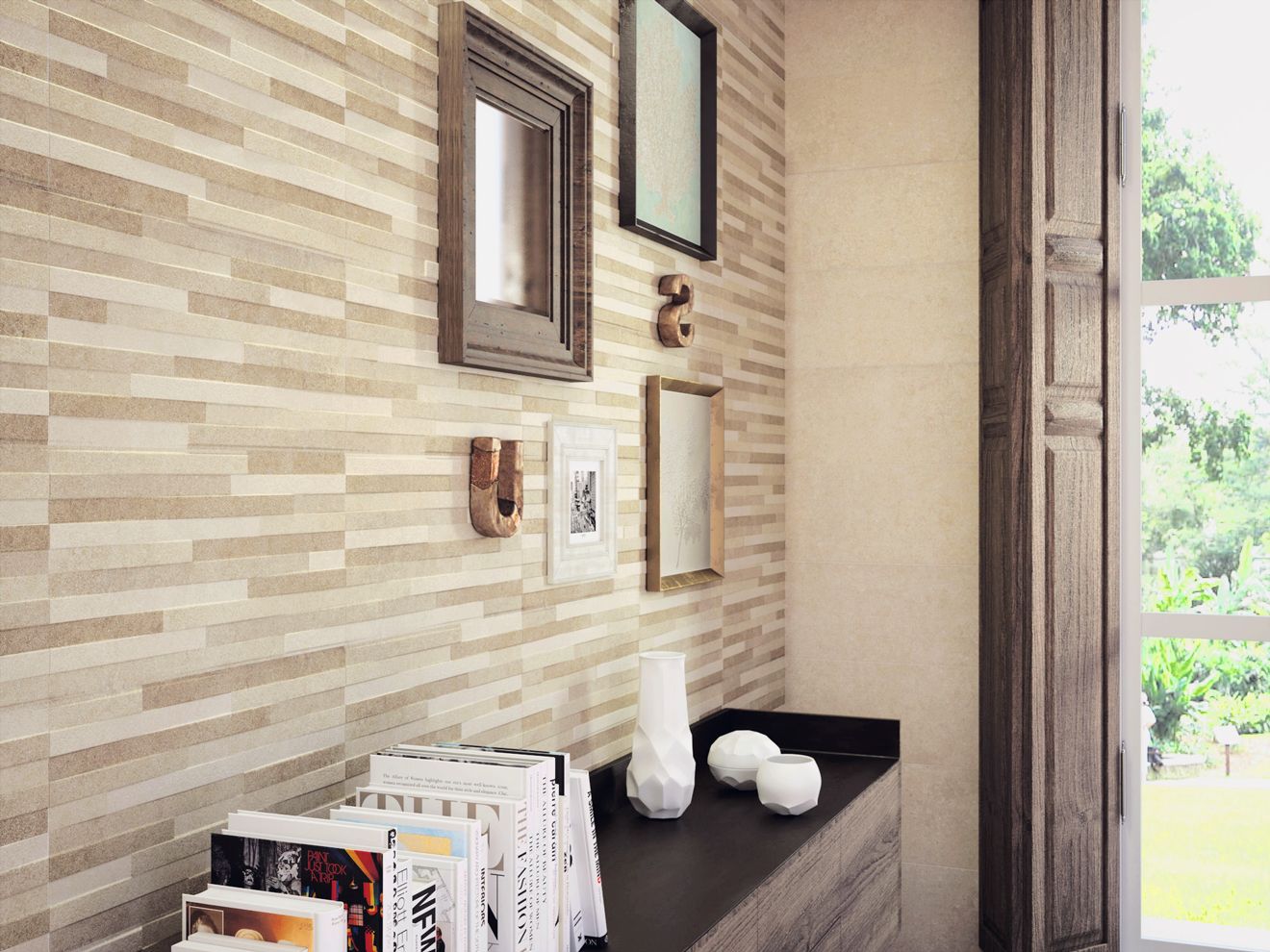 If you're thinking of upgrading your home, workplace or any other space, don't just fix your mind on flooring tiles. Consider the use of wall tiles. Both for internal wall and exterior outdoor wall tiles. Cast your eyes on the use of split face tiles to provide you with a sense of no fuss. They have a wider effect on the feel of a room maintaining interest and providing for absolute beauty since they resemble the characteristic natural look of stone (mosaic split face tiles). The classic texture and look ensure they create a relaxing look of nature and will enhance the feel of life in any room. Arguably split face tiles have a uniqueness range from the variety from which they are manufactured and this ensures there is a wide range to suit the decorative approach of each and every type of home interior and exterior thereby ensuring aesthetics are in check and that a tone of nature is clearly embraced.