How to Select the Best Marble-Look Tiles for Your Home
Posted by Anisa K on 17th Feb 2023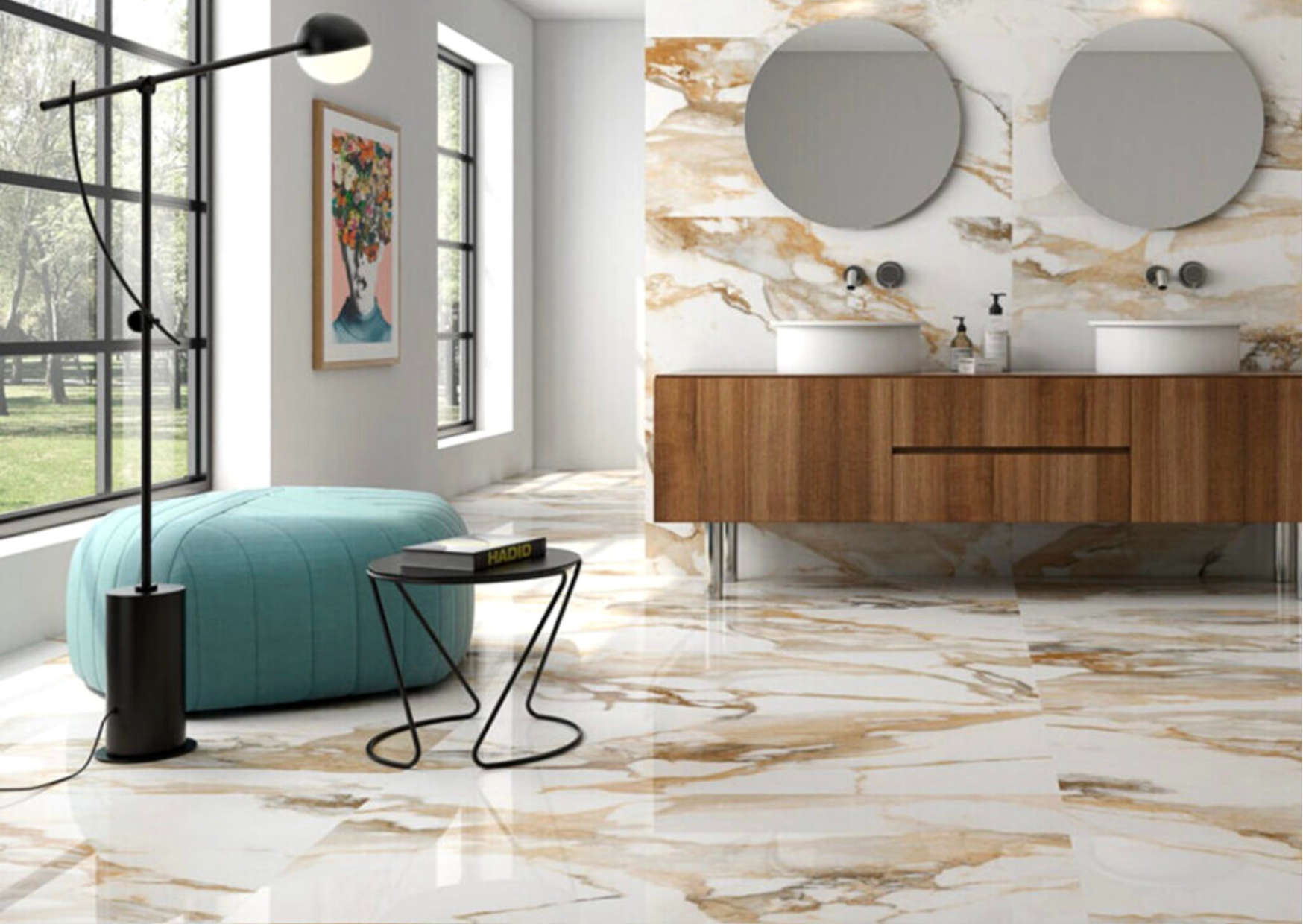 Figure 1-1: Marble Effect Tiles
Marble-look tiles are a great way to add style and elegance to your home. With so many different sizes, finishes, and colours available, it can be challenging to choose which is correct. This guide will help you make an informed decision when selecting marble-look tiles for your home.
The rich decorative veins of marble adorning any wall or surface are understated. Marble surfaces are versatile, whether used as a feature wall or flooring. To believe that, however, would be incorrect; anything other than its classic beauty and timeless charm accounts for its ease of form. There are many reasons why marble tiles have endured the test of time and continue to be a top option when choosing building materials. If natural stone is not an option for you to consider for your next remodelling budget, it is just as well that marble-look porcelain tiles readily present the same aesthetic appeal.
Consider marble-look porcelain tiles if you want the beautiful patterned look natural marble tiles provide. Since they are 100% waterproof and do not require sealing, they cannot be stained. Porcelain also has the ideal qualities of strength and durability, so they are suitable for various interior settings in your home. We offer a variety of marble-look porcelain tiles in a variety of finishes. Whether you want a matt or polished look, our product line will undoubtedly have a selection of marble-look tiles to suit your needs.
Size: Marble tiles come in various sizes, so you can choose the one that best suits your needs. When deciding on the size of your tile, consider the size of the area you are tiling. If you have ample space, such as a kitchen floor, larger tiles, such as 60x60cm or 100x100cm, will work best. For smaller spaces such as bathrooms or hallways, 30x60cm or 80x80cm tiles may be more appropriate.
Finish: Marble tiles come in various finish types, including polished, honed, and tumbled. A polished finish is shiny and reflective, giving your surface a bright and luxurious aesthetic. Honed marble has a more natural matt look that provides an understated elegance to any space. Tumbled marble has a slightly textured appearance with soft edges, adding warmth and character to your living space.
Where should you use Matt and Gloss Tiles?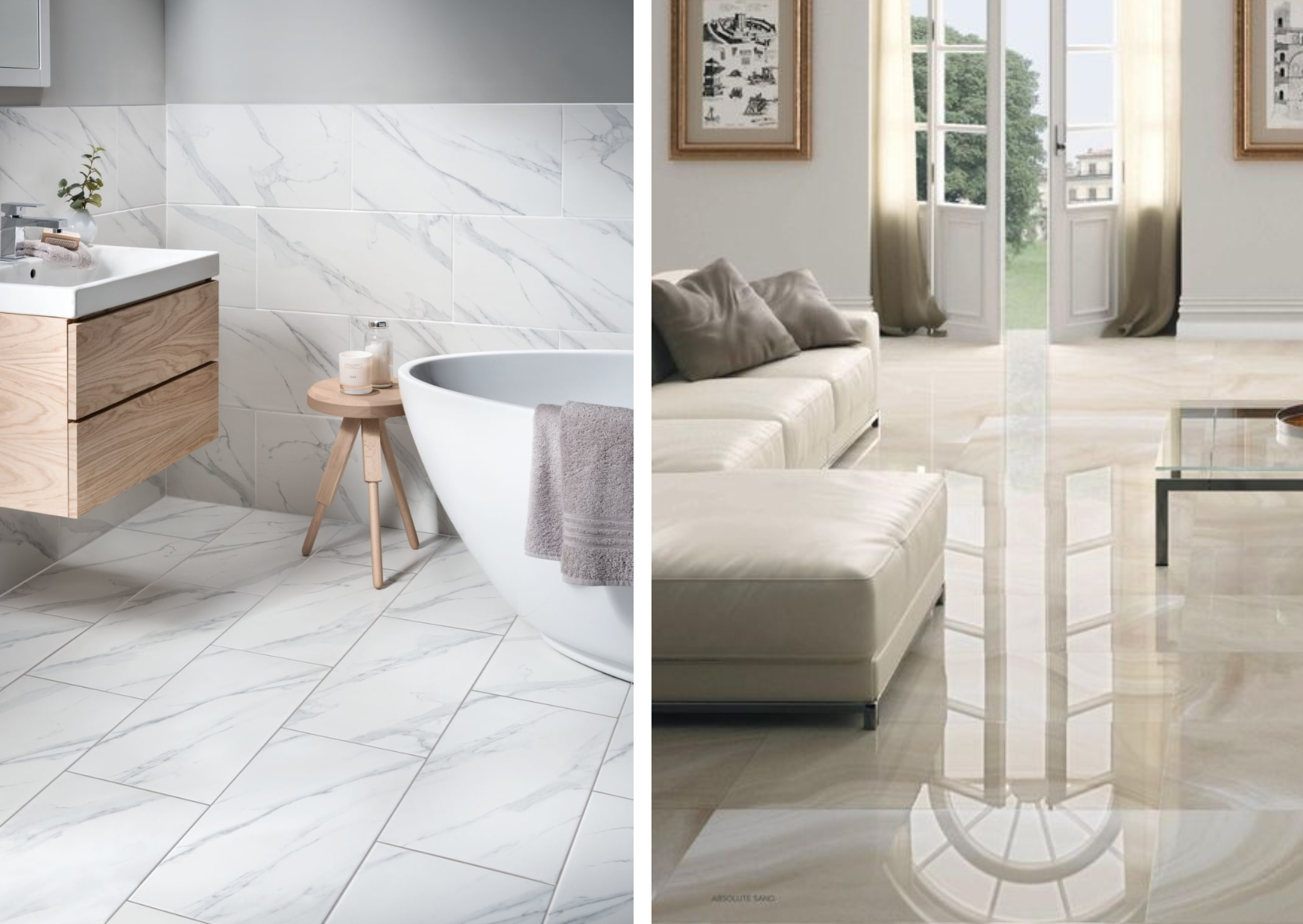 Figure 1-2: Matt & Gloss Effect Tiles
Gloss tiles are easier to clean and maintain, making them perfect for use in high-traffic areas such as the bathroom and kitchen walls. Because cooking splatters, food particles, and soap scum are more challenging to remove from matte surfaces, you can also use them for your bathroom shower walls and kitchen backsplash. Glossy wall tiles give the appearance of a larger space in smaller, constrained areas like narrow corridors, hallways, or entrance areas because light reflects off them.
Glossy tiles are also perfect for guest rooms or small bedrooms. The lustre of the tiles creates a sense of space and adds to a room's style and glamour. To create a luxurious primary suite, go with gloss-finished walls.
The best places to use matte-finish tiles are where you need more foothold. They provide more resistance and traction on the ground. They are frequently used in homes with children and the elderly to prevent falls. While matte tiles might not be as appealing as glossy or bright ones, they have more traction. Matte tiles have a better reputation for being "non-slip" in high-traffic areas frequently exposed to moisture, humidity, and steam. Matte tiles are a good choice for hallways, kitchens, and bathroom floors.
Unlike glossy tiles, matt tiles can better conceal smudges, stains, and dried water droplets. Matte tiles don't need frequent cleaning. And when you do, you don't have to be as concerned about water and soap stains. Matte tiles are the way to go if you want to achieve a natural or rustic look in your decor. Warm, natural, and earthy tones all contribute to the rustic effect, and a variety of stone, wood, and cement effect tiles are available. For those seeking a calming environment, matte tiles create a great place to relax and unwind.
When selecting a finish, think about the room's atmosphere!
For example, if you want a more formal or luxurious look, you may consider polished marble. However, matt tiles might be better suited for a softer and more natural feel.
Colours: Marble tiles come in a wide range of colours, from classic white to deep grey and gold. Consider the colour scheme in your home and how much light each room receives when selecting the right shade for your marble-look tiles. Darker shades will add depth and drama, while lighter hues will give your space a bright and airy feel.
Price: Marble-look tiles are less expensive than natural marble stone, so it's a budget-friendly option for you.
Let's introduce you to some of the best marble-look tiles!
Calacatta Gold Marble Effect Porcelain Tiles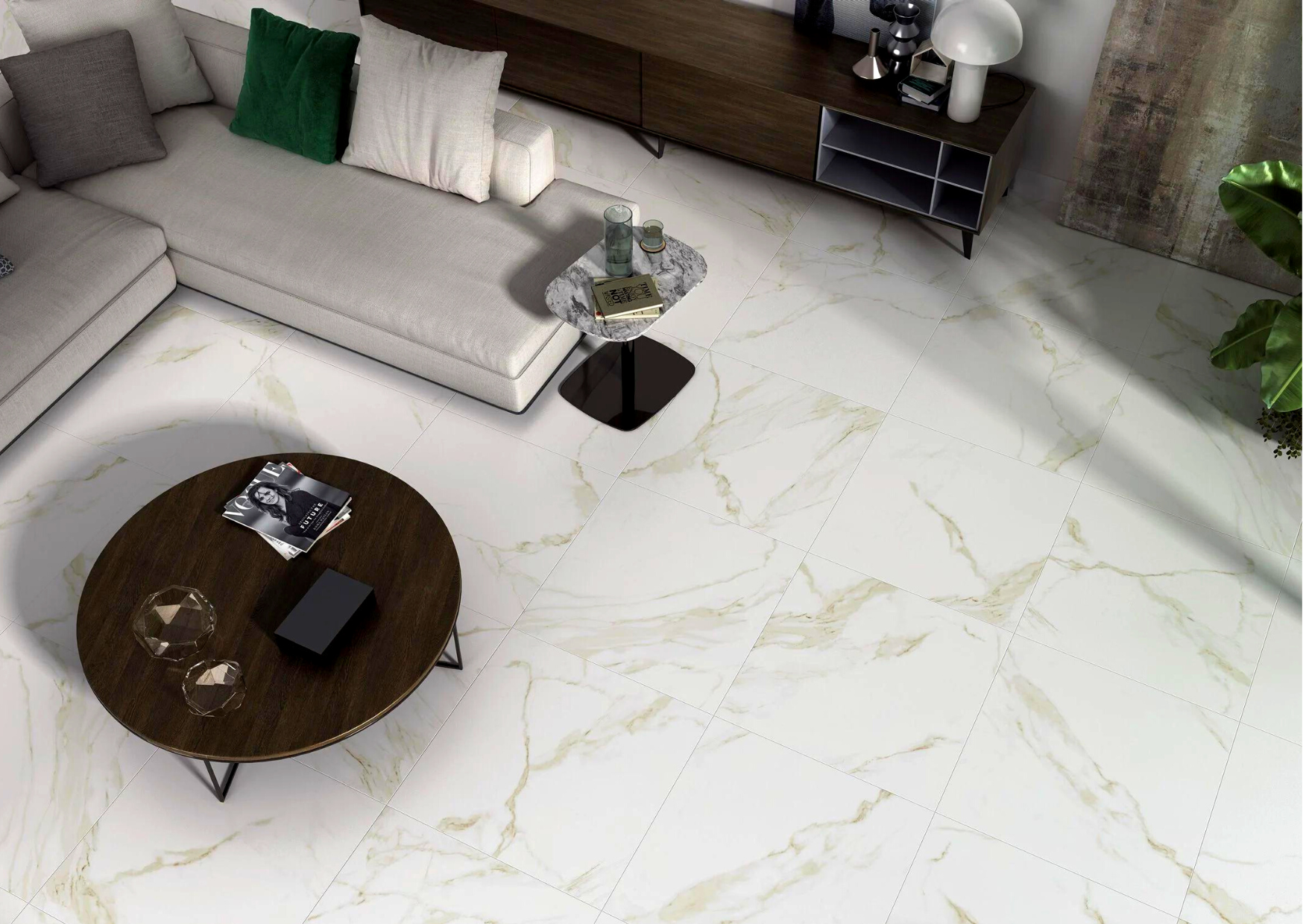 Figure 2-1: Calacatta Gold Marble Effect Tiles
For those who prefer a white marble effect but don't want the typical grey veined tile, the Calacatta Gold porcelain floor tile offers calmer and warmer golden beige veins. Beige is often described as a relaxing colour that is neutral to its surroundings as a design colour.
Combined with the beautiful natural marble-inspired vein patterns, you get a fusion of modern colour and a classic-looking floor. Since the invention of tiled floors, marble has served as the model for interior floor tiles, but using actual marble can be challenging.
Calacatta Gold marble-effect tile is a precious marble extracted in Italy from a quarry near the Carrara region. The marble's veins do not follow typical linear patterns. The priceless stone has a brecciation structure with striking golden veins on a background of white butter. The unique colour tone gives any room a warm, elegant, and airy appearance. The beauty of this beautiful marble has been replicated with our imitation porcelain tiles so that you can enjoy the "movement" of the veining in your living space or business at a fraction of the cost of the natural stone.
This durable calacatta marble tile is ideal for use as a Wall & Floor tile throughout the home, especially in busy living areas, hallways, bathrooms, and kitchens. This marble effect floor tile is ideal for use over underfloor heating and creates a real talking point with your guests.
It's available in Calacatta Gold Gloss Marble Effect Porcelain Wall & Floor Tile and Calacatta Gold Matte Marble Effect Porcelain Wall & Floor Tile.
Grey Marble Effect Tiles: Elegance & Class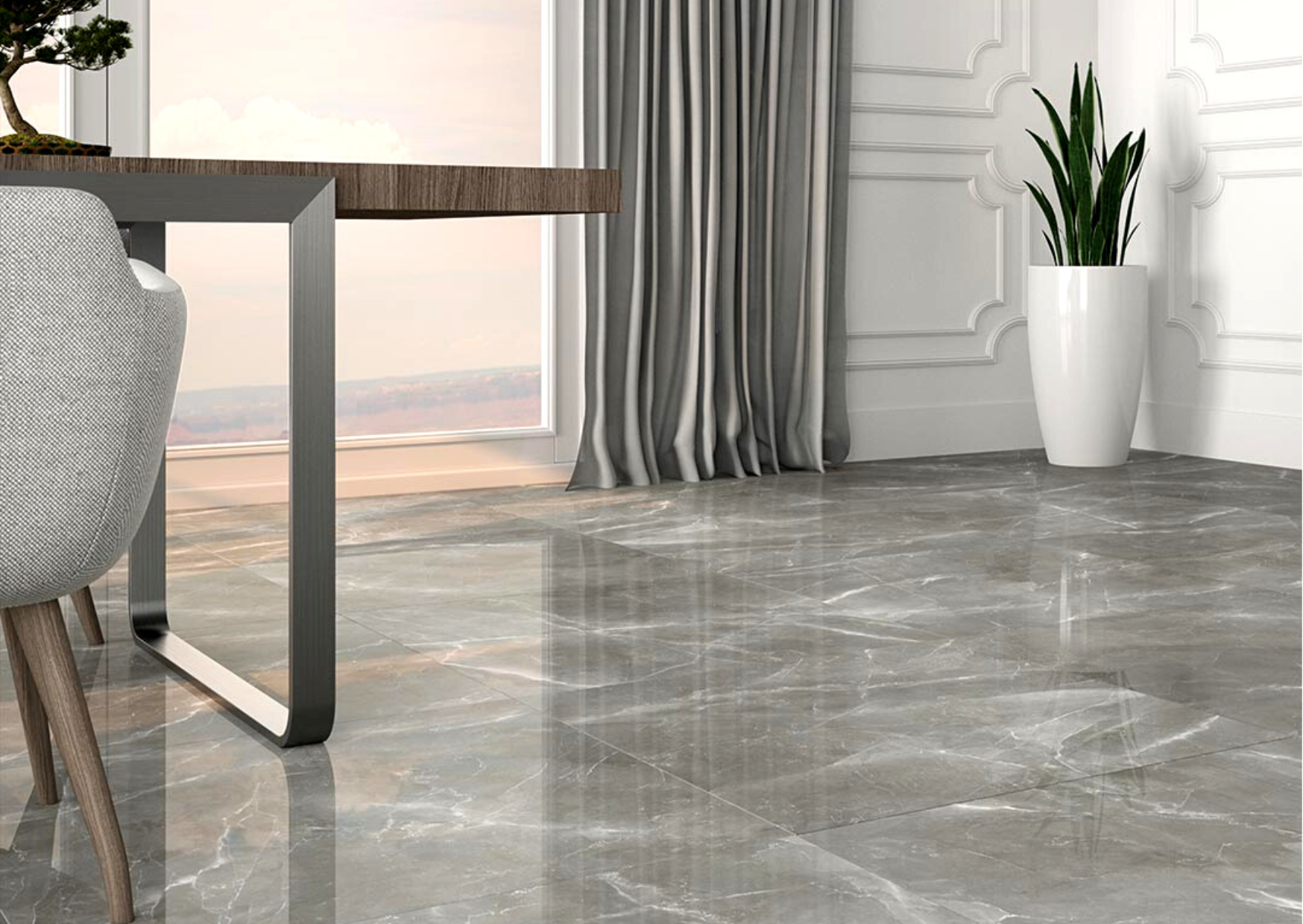 Figure 2-2: Grey Marble Effect Tiles
Majestic Grey is a timeless favourite among natural stone lovers. It has a minimalistic flair with its ash-grey background and delicate white veins that stand out in any setting. The tiles are made of porcelain, a long-lasting material known for its durability and elegant appearance. Suitable for underfloor heating if the substrate is prepared correctly and the suitable flexible cement-based tile adhesive and grouts are used.
Any room is made upscale and bright by using grey tones with various nuances. Grey is a neutral colour that can be used as a base for bolder hues and add life to imaginative projects.
Grey marble-effect tiles have the exact aesthetic yield as the material after which it is inspired, with the great advantage of being easier to clean and resistant to impacts, stresses, humidity, chemicals, and temperature changes. Grey marble-effect floor tiles combine beauty and durability and can add prestige to a room.
One of the unique characteristics of stoneware is its ability to reproduce any colour nuance while also evolving the natural material by removing the imperfections common in natural marble slabs. It enables the creation of tiles in various grey tones, ranging from light to dark, with characteristic marble streaks.
The marble effect looks great on large slabs, which have a tremendous scenic impact and add class to any environment. Tiles Deluxe provides grey marble-effect stoneware tiles in various formats and sizes, ranging from small to large.
Let yourself be captivated by the infinite combinations and colour patterns available in various formats and nuances.
White Marble Effect Porcelain Tiles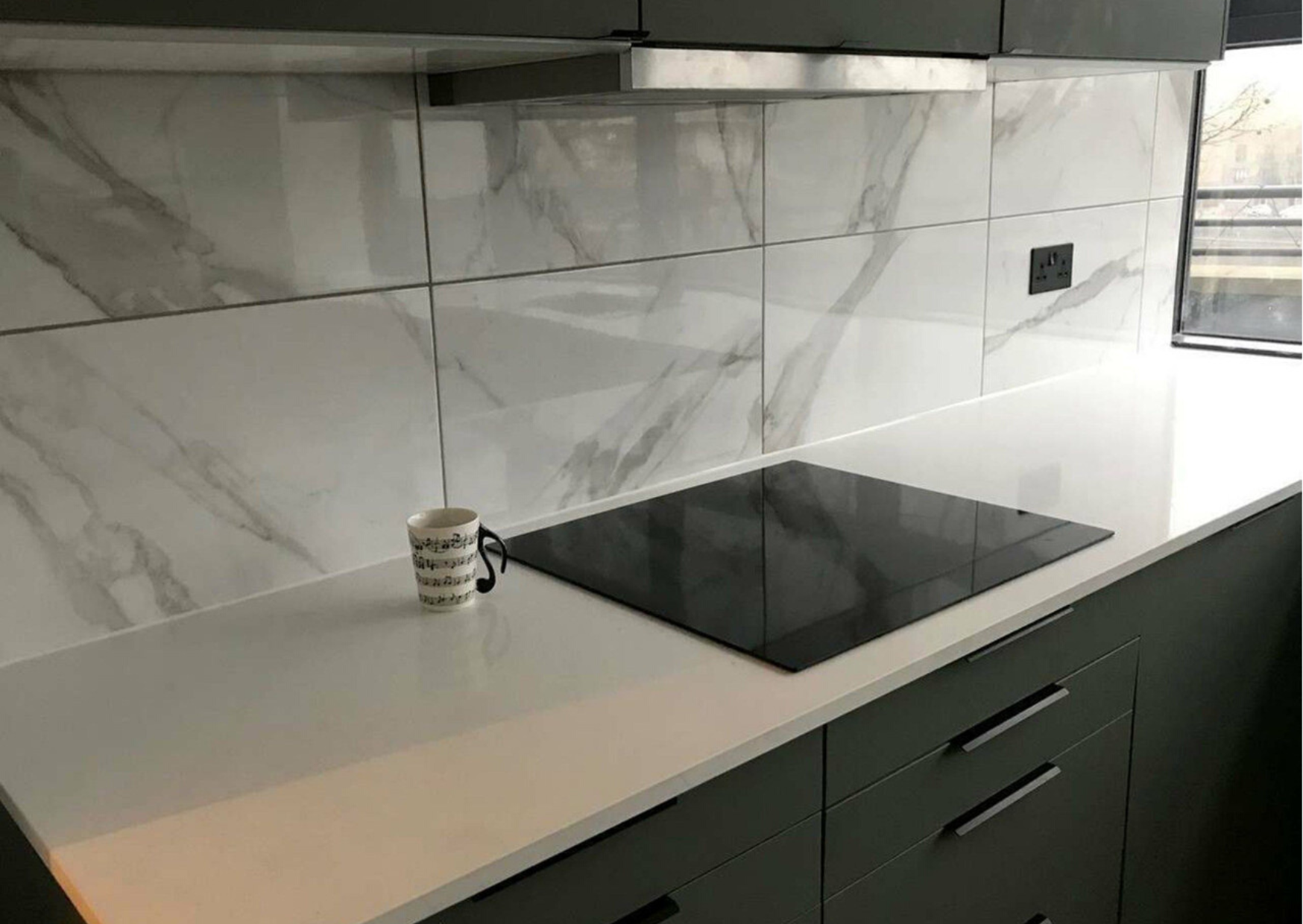 Figure 3-1: White Marble Effect Tiles
White represents purity, majesty, and cleanliness. The perfect example of these characteristics is white porcelain tile and white body wall tiles. They're ideal for creating a modern floor that can be used in any house room. They highlight the lines and colours of the furnishings when mounted on the wall.
Tiles Deluxe marble effect tile collections, which reinterpret materials such as stone, wood, marble, and concrete prevalent in contemporary architecture and design, feature infinite shades of white.
White tiles for luxury spaces: Our marble-effect collections are ideal for creating a complete luxury look in residential, public, and commercial settings. The warm and cool vein pattern enhances the white background's brightness, inspired by the Italian marble used in artistic monuments and architecture for centuries, bringing life to interiors with a dramatic impact.
White tiles in the bathroom: A splash of colour is required to add a creative accent to the interior. You can maximize the esthetic performance of floors and walls by using pleasing combinations and unique contrasts. White tiles can combine in the bathroom with bright colours, such as the blue resin effect of Prism or Venti Boost encaustic tiles. There are no limitations to your creativity: the variety of formats allows for an infinite number of design solutions, allowing you to find the best idea for your bathroom.
White tiles in the kitchen: White tiles in a modern kitchen have nothing to fear, not even the most abrasive dirt. Our porcelain tiles are simple to maintain. Use the same cleaning products daily to remove coffee, wine, or grease stains from splash guards, tables, and worktops.
Tiles in different shades of white: The porcelain and wall and floor tile collections are versatile. It's available in matt and polished finishing.
Select the effect that you prefer. Tile Deluxe white tiles will add a touch of exclusivity to your floors and walls.
These marble-effect tiles are available in various sizes, including 30x60 cm, 60x60 cm, 75x75 cm, 80x80 cm, 100x100 cm, 120x60 cm, and 120x120 cm. You can select as per your requirements. A massive variety of marble-look tiles with gloss and matte finishes are available on Tiles Deluxe.
We also have a sale on all products on our website that will end soon, so take advantage of this offer as quickly as possible.
Last but not least, when selecting marble-look tiles, keep these factors in mind. These factors will assist you in making your decision.
Why choose marble-look tiles for your home:

Marble-look tiles are excellent for any home. They bring an elegant and sophisticated feel to the room but can also be practical and durable. Marble is resistant to heat, making it great for kitchen floors or around fireplaces. It is also highly scratch and stain-resistant, meaning it will look beautiful for years to come. Plus, the variety of colours and finishes available means you can find the perfect tile for your home. Marble-look tiles are a great way to add style and durability to any space in your house.
By considering all these factors when selecting and installing marble-look tiles, you can be sure that you will have an attractive and long.
Versatility: Marble look tiles are an excellent choice for any space in the home. They can be installed on floors, walls, kitchens, bathrooms, living rooms, and more. The different sizes and finishes make them suitable for any room's atmosphere. You don't have to sacrifice style for practicality with marble-look tiles - they can give any space a luxurious and timeless look.
Durability: Marble is highly scratch and stain-resistant, meaning it will look beautiful for years to come. Plus, it is resistant to heat, making it great for kitchen floors or around fireplaces. Your marble tiles can last a lifetime with the proper care and maintenance.
Easy to clean: Marble is easy to clean and maintain. Wipe the tiles with a damp cloth or mop. Use a mild detergent with warm water for deeper cleaning, and rinse thoroughly. If you have polished marble tiles, invest in unique products to keep them looking their best.
Beauty and elegance: Marble look tiles bring a classic, timeless beauty to any room. The range of colours and finishes enables you to find the perfect tile for your home. Whether you want something bright and modern or more subdued and traditional, marble-look tiles will give your space an elegant feel that always stays in style.
I hope now you can choose a better option for your home. :)